Our goal at Simply Vanilla is to offer the best Vanilla Base game experience possible.
Our Chernarus Server is completely mod free and is pretty much 1-1 when it comes to Official servers in terms of configuration with slight changes such as:
- Re-spawn timer is set to 5 seconds, originally down from 15 seconds.
- Logout timer is set to 30 seconds, originally from 15 seconds to deter combat logging.
- Anything base building only lasts 25 Days without flag refresh or manual player refresh. Down from 45 days for balancing.
We do also offer a Namalsk Server which has base building turned off. (Tents, Barrels, Car/Trucks and Stashes still remain with a 25 day life time unless refreshed by player interaction.)
Our Deathmatch server has a range of weapons to select from; Keybind "," will enable a selection of class loadouts Along with the ability to check your total kills/deaths and KDR.
Spawns are custom to pvp in Zelenogorsk. Respawn timers are minimized for constant adrenaline. No Zombies! Great starter kit with essentials, along with armbands for you and your team!
--Disclaimer: We are waiting for the creator of the class selection mod to resolve a random crash and inventory bug. Server functions but will crash sparsely after a period of time.
We are of course still growing our community and hope that you would wish to join us in our growth.
https://discord.gg/GeyazvqCad
How to find & Join our servers.
Our Chernarus Server: IP: 142.134.59.36:2302 Name:
Simply Vanilla DayZ 1PP (NO MODS)
| Slots: 70 | Mods:
No Mods
Our Namalsk Server: IP: 142.134.59.36:2402 Name:
Simply Vanilla DayZ 1PP Namalsk
| Slots: 50 | Mods:
Namalsk Island, Namalsk Survival
Our Deathmatch Server: IP: 142.134.59.36:2502 Name:
Simply Vanilla DayZ 1PP Deathmatch Zelenogorsk
| Slots: 30 | Mods:
CF, DayZ Class Selection
Come out and join us,
Online Daily.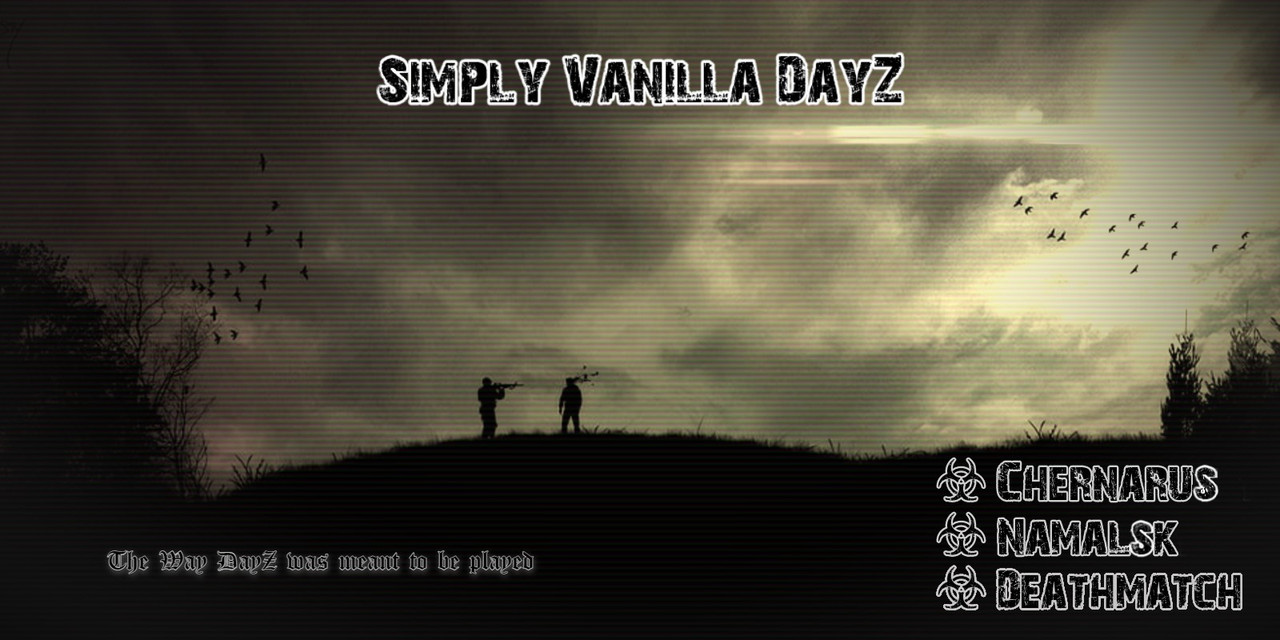 Last edited: